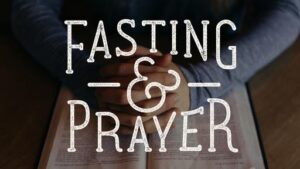 Second Baptist Church of Doylestown
30 Days Fasting & Prayer for 2020 Elections
Oct. 5th – Nov. 3rd
Dear Church Family,
The Lord opposes the proud, but gives grace to the humble, and the humble are the ones who pray, fast, repent of their sins and seek God with their whole hearts. I am asking that you join with us in fasting & praying for one month seeking God's divine intervention prior to the upcoming election. Fasting adds intensity and power to prayer, so please consider joining in this way.
The Issue
It is time to stand up, stand strong, and fight the enemy. The 2020 Election may be the most vital in history. We will either be wise and fervently pray for the election, or we will be docile only to realize too late the enemy stole what we chose not to protect. Diligence is key to fight for what is rightfully ours. A foolish nation we would be to NOT begin the fight…on our knees, praying and fasting for a Godly outcome.
The Solution
God instructs us to FAST and PRAY in Matthew 17:20-21. With that faithful obedience, the Scriptures say we can move mountains and there is NOTHING that is impossible. We believe that includes turning the heart of America back to Him.
The Plan
The goal is to have every member who is able…to fast and pray beginning on October 5, 2020 to November 3, 2020 Election Day. You will be receiving a devotional each day beginning Mon. Oct. 5th designed to help lead us in prayer and encourage us to seek God with our whole heart during this crucial and difficult time in our nation's history.
Thank you in advance for your partnership with the Gospel of Jesus Christ!
Sincerely in Him,
Rev. Dr. Robert E. Hamlin Sr., Senior Pastor
Second Baptist Church of Doylestown
PRAYER AND FASTING OPTIONS
FOOD FAST – There's nothing magical about giving up food in order to focus more on prayer. It just works. It breaks the power of physical urges. It makes us humbler before God. It serves as a reminder to pray. It opens our heart for more fullness of God's Spirit. It has a way of converting the pangs of physical hunger into more fervent spiritual hunger for God's kingdom and righteousness. There are numerous way to engage in fasting from food:
Water only

Juice and/or liquid

Daniel fast (healthy foods)

Skip-a-meal fasts
You choose the length of time. 30 days. 7 days. 3 days. 1 day a week. 1 meal-a-day.
TV FAST – Devote more time to prayer by putting away our culture's biggest distraction. The television. Could you do that for a week, two weeks or the whole
SERVICE FAST – According to Isaiah 58, God is not content with fasting that is merely religious. He calls for "true fasting" that incorporates acts of compassion and mercy for people in need. How about picking out some form of service you've never offered, and see what the Lord will do through you?
PRAYER COMMITMENTS – Covenant to pray daily. Or set aside one day a week to pray.
Pray 30 days while fasting

Pray "believing God for the MIRACULOUS" – both as a congregation and individuals!

Pray about and through upcoming Elections

Day 1 – Oct. 5th
Pray that our nation will increasingly see that God is our only refuge in the midst of the troubles of this world.
"God is our refuge and strength, an ever-present help in trouble" Psalms 46:1
Day 2 – Oct. 6th
Pray for truth to become valued again in American society.
"Then you will know the truth, and the truth will set you free" John 8:32
Day 3 – Oct. 7th
Pray for our judicial system and lawmakers—that justice for all, tempered by mercy and compassion, will guide our nation.
"This is what the Lord Almighty said: 'Administer true justice; show mercy and compassion to one another'" Zechariah 7:9
Day 4 – Oct. 8th
Ask the Lord to pour out a spirit of repentance on our nation, that we might become a nation committed to following His ways.
"You will seek me and find me when you seek me with all your heart" Jeremiah 29:13
Day 5 – Oct. 9th
Pray for wisdom for voters and a safe and fair election.
"My son, do not let wisdom and understanding out of your sight, preserve sound judgment and discretion; they will be life for you, an ornament to grace your neck. Then you will go on your way in safety, and your foot will not stumble" Proverbs 3:21-23
Day 6 – Oct. 10th
Pray that a holy fear of God will sweep across our nation, leading us back to a place of wisdom and walking in the Lord.
"Who among you fears the Lord and obeys the word of his servant? Let the one who walks in the dark, who has no light, trust in the name of the Lord and rely on their God" Isaiah 50:10
Day 7 – Oct. 11th
Pray for the judges of this nation, that they will seek the wisdom that comes from above.
"But the wisdom that comes from heaven is first of all pure; then peace-loving, considerate, submissive, full of mercy and good fruit, impartial and sincere" James 3:17

Day 8 – Oct. 12th
Repent on behalf of our nation, because we have turned from making Scripture the basis of law, leaving behind wisdom and instead, looking to ourselves for truth.
"We all, like sheep, have gone astray, each of us has turned to our own way; and the Lord has laid on him the iniquity of us all" Isaiah 53:6
Day 9 – Oct. 13th
Pray that the United States will repent of its corporate rejection of the Word of God as the basis of law.
"How long will you who are simple love your simple ways? How long will mockers delight in mockery and fools hate knowledge? Repent at my rebuke! Then I will pour out my thoughts to you, I will make known to you my teachings" Proverbs 1:2-3
Day 10 – Oct. 14th
Ask the Lord to remove those who might try to unjustly change the outcome of the voting.
"I will make justice the measuring line and righteousness the plumb line; hail will sweep away your refuge, the lie, and water will overflow your hiding place" Isaiah 28:17
Day 11 – Oct. 15th
Pray for a huge turnout of voters who use wisdom in their decisions.
"Get wisdom, get understanding; do not forget my words or turn away from them. Do not forsake wisdom, and she will protect you; love her, and she will watch over you" Proverbs 4:5-6
Day 12 – Oct. 16th
Pray for protection from any attacks from enemies that would prevent or delay the election.
"Do not be afraid of them; the Lord your God himself will fight for you" Deut. 3:22
Day 13 – Oct. 17th
Pray for the salvation of those who are in leadership of our nation. Ask the Lord to remove all envy and selfish ambition.
"For where you have envy and selfish ambition, there you find disorder and every evil practice" James 3:16
Day 14 – Oct. 18th
Pray that candidates will take brave stands for righteousness, even when it may not be well received.
For in it the righteousness of God is revealed from faith to faith; as it is written, "But the righteous man shall live by faith." Romans 1:17

Day 15 – Oct. 19th
Pray that the candidate's families will be protected from harm.
"You, Lord, will keep the needy safe and will protect us forever from the wicked, who freely strut about when what is vile is honored by the human race" Psalms 12:7-8
Day 16 – Oct. 20th
Ask the Lord to surround the candidate's with godly advisors.
"The fear of the Lord is the beginning of wisdom; all who follow his precepts have good understanding. To him belongs eternal praise" Psalms 111:10
Day 17 – Oct. 21st
Pray that each candidate will focus on the issues we face as a nation—and not on personal attacks on other candidates.
"If you bite and devour each other, watch out or you will be destroyed by each other" Galatians 5:15
Day 18 – Oct. 22nd
Pray for a spirit of consecration and holiness to come upon the Church in America.
"But just as he who called you is holy, so be holy in all you do" 1 Peter 1:15
Day 19 – Oct. 23rd
Ask the Lord to equip the Church to rise up with a strong prophetic voice for America.
"Pray also for me, that whenever I speak, words may be given me so that I will fearlessly make known the mystery of the gospel" Ephesians 6:19
Day 20 – Oct. 24th
Pray for a spirit of repentance to fall upon the Church in America that would cause believers to turn back to God and seek Him.
"God looks down from heaven on all mankind to see if there are any who understand, any who seek God" Psalm 53:2
Day 21 – Oct. 25th
Pray that the Church in America will so noticeably live in Christ's peace that His peace comes into the councils of our nation.
"Let the peace of Christ rule in your hearts, since as members of one body you were called to peace. And be thankful" Colos
sians 31:5

Day 22 – Oct. 26th
Pray for a movement of the Spirit that creates a dramatic cultural transformation in the United States, bringing about a nation that has learned to put its hope in the Word of God.
"Do not conform to the pattern of this world, but be transformed by the renewing of your mind. Then you will be able to test and approve what God's will is-his good, pleasing and perfect will" Rom. 12:2
Day 23 – Oct. 27th
Ask for great awareness and discernment as we pray over the election.
"Be very careful, then, how you live-not as unwise but as wise, making the most of every opportunity, because the days are evil. Therefore do not be foolish, but understand what the Lord's will is" Ephesians 5:15-17
Day 24 – Oct. 28th
Pray for another Great Awakening to sweep the nation as the Lord's people learn to humble themselves with a contrite spirit, and to tremble at the Word of the Lord.
"'Has not my hand made all these things, and so they came into being?' declares the Lord. 'These are the ones I look on with favor: those who are humble and contrite in spirit, and who tremble at my word'" Isaiah 66:2
Day 25 – Oct. 29th
Beseech the Lord for a strong hedge of protection around the nation itself during this time of decision.
"May your unfailing love be with us, Lord, even as we put our hope in you" Psalm 33:22
Ask the Lord to bring revival to the Church in America.
"Since ancient times no one has heard, no ear has perceived, no eye has seen any God besides you, who acts on behalf of those who wait for him" Isaiah 64:4
Day 27 – Oct. 31st
Pray that candidates (and all of us!) would have listening ears and soft hearts.
"Incline your ear and hear the words of the wise, And apply your heart to my knowledge" Prov. 22:17
Day 28 – Nov. 1st
Pray for candidates to address poverty and justice issues.
"Open your mouth for the speechless, In the cause of all who are appointed to die". Prov. 31:8
Day 29 – Nov. 2nd
Pray that our leaders would commit to working together (and that we would too).
"God purposely created us with differences and designed us to work together. "Just as a body, though one, has many parts, but all its many parts form one body, so it is with Christ" 1 Corinth.12:12
Day 30 – Nov. 3rd
Pray that we would see each other through Jesus' eyes.
"The eye is the lamp of the body; so then if your eye is clear, your whole body will be full of light. Matthew 6:22