Dear Church Family,
Below are the links to obtain all updated Scholarship and Awards Application forms offered through the Scholarship Committee of Second Baptist Church of Doylestown. Applications should be downloaded and submitted to the below listed Scholarship Committee members.
It is the applicant's responsibility to review the scholarship criteria to determine whether you are eligible to apply and to follow up on the application process. Read the application criteria carefully! Be sure that you do not overlook any necessary or required data/information. Neatness counts! Your application and supporting documents should all look professional. In addition, proofread your entire package and
have someone else proofread it also. Please observe deadlines! Plan to submit your application before the deadline if possible. Make sure your application is complete. Incomplete applications will not be accepted! If you are mailing out applications be aware of the postmark dates.
It is our pleasure to serve our youth by offering awards and scholarships from the committee as well as our special donors. Thank you applicants, for helping us to recognize and support your journey. Remember, "Trust the Lord with all your heart. Don't depend on your own understanding. Remember the Lord in everything you do. And He will give you success." Proverbs 3: 5-6.
Sincerely,
SBCOD Scholarship Committee
Dollie Jones/Sharon Walker Ramsey Scholarship – $1,000
The late Dollie Jones and her daughter Sharon Ramsey Walker began the SBCOD Scholarship Ministry in 2007. This scholarship is intended to honor their efforts and assist SBCOD members with post secondary educational opportunities. Winners of the award shall demonstrate a commitment to academic achievement, community and church service.
Oran V. Brown Memorial Scholarship – $1,000
The Oran V. Brown Memorial Scholarship Is sponsored by Veronica Brown and daughters Ayanna Lewis and Kai Brown in memory of husband and father Oran V. Brown, a lifelong learner and educator. Oran believed in the pursuit of additional education and the development of further skills beyond an individual's formal or
compulsory education. This scholarship is intended for minority Second Baptist Church of Doylestown members to assist with post-secondary educational opportunities. Winners of the award will have to demonstrate a commitment to educational excellence and service to their community.
Barbara E. Hawkes Memorial Scholarship
The Barbara E. Hawkes Memorial Scholarship is sponsored by Leslie Hawkes in memory of her mother Barbara E Hawkes. Barbara devoted much of her personal time to pursuing civil justice matters. Education was also immensely important to Barbara. Candidates for this scholarship will demonstrate community service in the areas of advancing civil rights for people of color in our country. Additionally, candidates for this scholarship will demonstrate their commitment to education for themselves and others.
The Good Samaritan Scholarship
The Good Samaritan Scholarship is sponsored by the Jimmy Jones Memorial Golf Classic in memory of John 'Jimmy' Jones who demonstrated on a regular basis the attributes of the Good Samaritan (Luke 10:30-37). Jimmy gave his time, talent and
treasures to address the physical needs of the church to improve the church experience for all of our members and guests. The applicant must demonstrate a servant attitude and commitment to providing service to the Lord and the church.
Willie Deese Scholarship – $1,000
The Willie Deese Scholarship Award is sponsored by retired pharmaceutical executive and corporate board member Willie A. Deese and his wife Carol, lifelong educator, teacher and community servant. Willie and Carol believe that when we level the playing field by providing equitable resources and opportunities for all, it leads to positive
outcomes that have an exponential impact on society. This award is based on Academic Achievement, Leadership Ability and Community Service.
Graduation Recognition and Award Application – $50 to $250
SBCOD Scholarship Advancement Award for College Sophomores, Juniors and
Seniors
– $500
This award is a ONE time advancement scholarship for college sophomores, juniors or
seniors or tech school students having finished the first year of an accredited training program and continuing in the same program.
First Time Scholarship Application for Graduating High School Seniors – $500
Second Baptist Church of Doylestown
Attn: Scholarship Committee
Questions contact: Stacy Marshall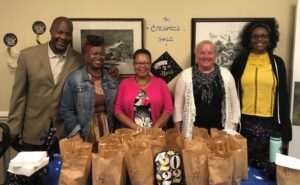 Scholarship Committee Members