Come Join Us Every Sunday. . .
All Are Welcome!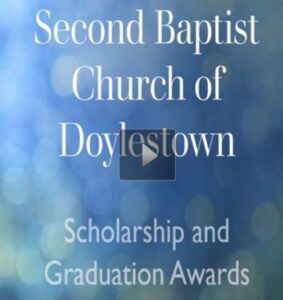 Congratulations Graduates!!

It's a pleasure to welcome you to the Second Baptist Church of Doylestown website. Whether member, friend, or visitor – we hope that this site reflects the friendly and open nature of our congregation.
If you are searching for a church home, we'd like you to know that there's a special place here just for you as we attempt to "Build God's Kingdom Together".


Lessons July 3rd thru August 30th

CHURCH WORSHIP TIMES:
Sunday School: 9:00 a.m.
(TBD)
Sunday Worship: 10:15 a.m.(
TBD)
Wednesday Bible Study:
(TBD)
11:00 a.m. & 7:00 p.m.



Coronavirus (COVID-19) Church Notices:
All Church Worship Services will be
LIVE STREAMED only until further notice. You can watch the service live at 10:30 a.m. each Sunday. A full recording of Sunday Services can be found in our Sermon Archives.
Additional Cancellations:
Sunday School is cancelled until further notice.
Wednesday
Bible Study
in
person meetings are cancelled, however we will hold virtual meetings using Zoom Teleconference Cloud Meetings at 11:00 a.m. and 7:00 p.m.
Download the ZOOM App on your phone or computer
Enter Meeting Number: 2673125900
Or Dial in via Conference Call: (929) 205-6099
Access Code: 2673125900 #